#kunstformunboxing Instagram Raffle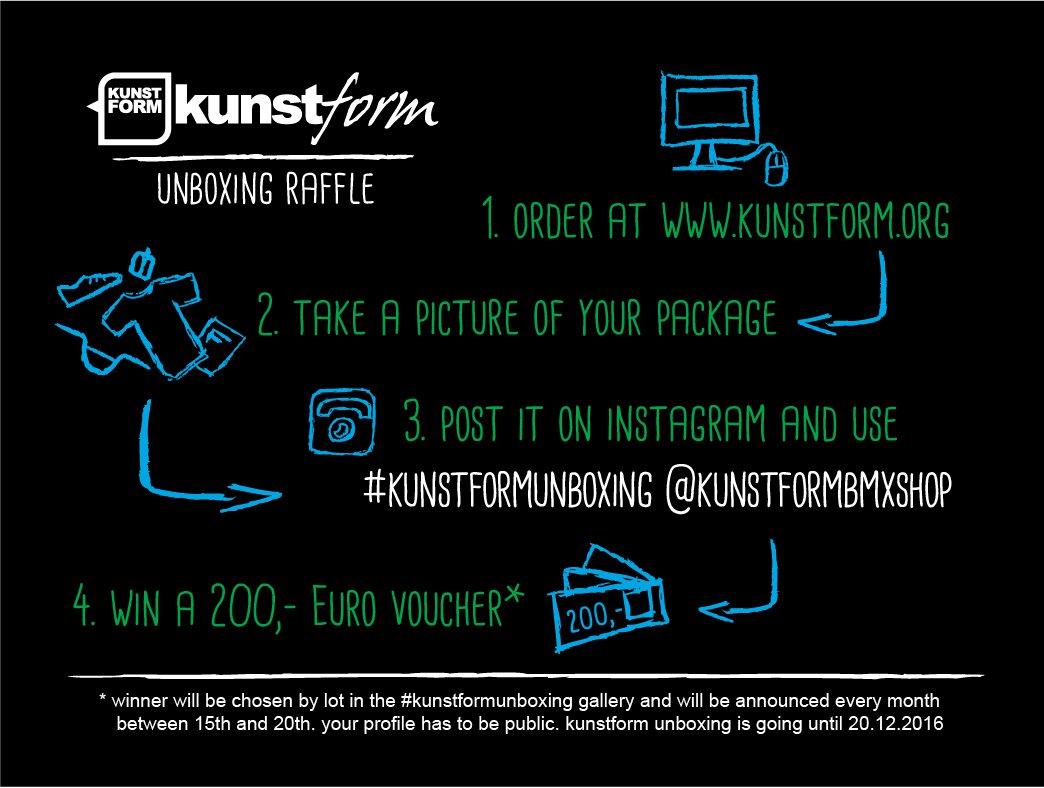 #kunstformunboxing Instagram Raffle
We pack your order with love and care, so we're very interested if your order has arrived right to you. For this reason, we have considered the
#kunstformunboxing
raffle, where you can not only tell us whether your package has arrived as well you have also the chance to win a
voucher of 200 EUR each month
. This is how it works:
1. Order something at www.kunstform.org
2. Take a photo of your order after you received it
3. Post it on instagram and use #kunstformunboxing @kunstformbmxshop
We will select each month, between 15 and 20 a winner from the Instagram Gallery
#kunstformunboxing
by lot. So, you'll have every month a new opportunity to win! In the photo must be clear that this is an order from kunstform BMX Shop, so grab some free stickers from your order and put them on the picture too! Your profile must be public and the #kunstformunboxing Instagram Raffle goes from 25th of feburary 2016 until 20th of december 2016. Participation to the raffle is free and independent of any acquisition or the use of paid services. If you are not yet of legal age, you need the consent of a legal guardian. Excluded from participation are employees of kunstform GmbH and their relatives. By participation in the raffle the participant declares his agreement with the rules of the raffle.
Latest #kunstformunboxing