kunstform BMX Shop & Mailorder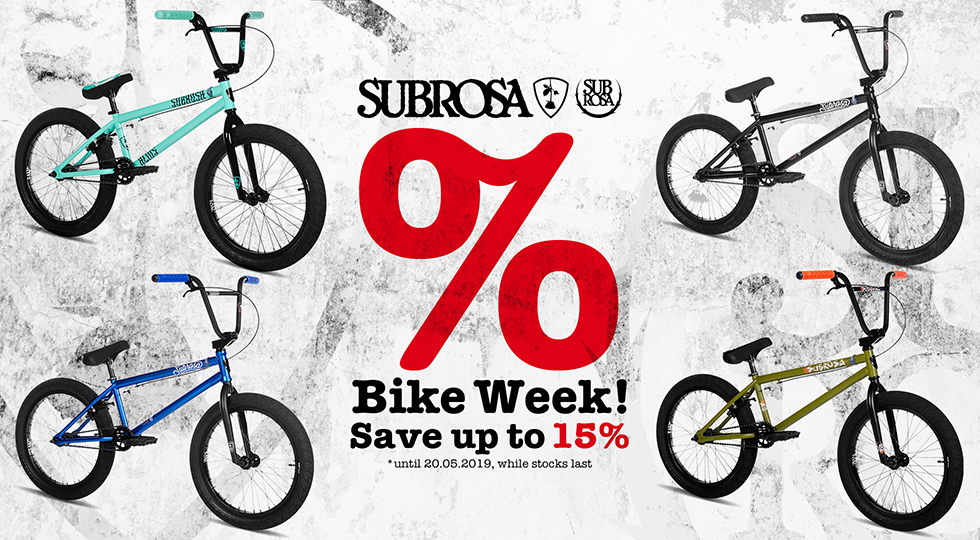 We were able to get a delivery of the popular Subrosa 2019 BMX bikes for a good rate! Now we can offer the top beginner BMX bikes for an awesome special price during our Subrosa BMX Bike Week . The offer is valid only until 20.05.2019 and while stocks last!
Related links:
% Subrosa BMX Sale %
12.50 kg
349.95 EUR
299.95 EUR
- 14 %
12.40 kg
399.95 EUR
349.95 EUR
- 13 %
12.60 kg
369.95 EUR
319.95 EUR
- 14 %
Top Categories
Latest News
kunstform - Your BMX Shop & Mailorder for over 10 years
Welcome to kunstform BMX Shop & Mailorder, your riderowned BMX shop and BMX Mailorder. We always have the latest BMX Bikes, BMX Parts, BMX Accessories, BMX Shoes and Streetwear in stock. All of our employess ride BMX and that means you'll get expert advice with a clenched experience of about 10 years BMX! So if you're not sure what to buy while browsing through our BMX shop, just do not hesitate to contact us!
Our BMX Shop in Stuttgart
We would be pleased about a visit to our BMX Shop in Stuttgart. You can check our in-stock BMX range and also test all our BMX complete bikes, so just come by and get inspired! And if you are on a roadtrip make sure to pass by and get the latest info about what's going on in the scene and where to ride. Location and opening hours can be found in the footer below.
Which BMX Bike is the right one?
We are happy to help you get started in the BMX world. With us you will receive only high quality BMX Bikes and BMX Parts. Our range consists almost exclusively of BMX brands that have long been established in the BMX scene or founded by BMX riders.
You can choose from a various range from Beginners to Middle Class BMX Bikes to Highend BMX Bikes.
Looking for a BMX for your son or your daughter? No problem! You can find some quality BMX Bikes for Kids in our BMX Kids section from a wheel size of 12" up. Make your 3-5 year old happy with one of these bikes! We recommend 16" BMX Bikes for 5-9 year olds and 18" BMX Bikes for 9-12 year olds. Be aware that body height matters! If you're not sure what to buy for your kid, just call us or visit our BMX shop in Stuttgart!
Order your Custom BMX with our BMX Online Configurator!
At kunstform BMX Shop, you cannot only buy BMX Parts like Frames, Forks, Handlebars etc. the regular way, but also configure a complete BMX bike with our Custom Bike Editor. Add all parts to the basket with one click, get 10% discount on it and your preassembled BMX will be at your home within just a few days!
How can you order?
Placing an order in our BMX shop is easy. Just put your favorite products to the basket and go to checkout! If you are from germany then our payment methods include cash on delivery, banktransfer, credit card, direct debit, PayPal or purchase on invoice, other wise there will be credit card, paypal or banktransfer. Shipping is free in DE from 99 EUR, EU from 299 EUR, Europe (non Eu) from 499 EUR, worldwide from 6499 EUR. Your delivery will be packed with love. We will add stickers and - if available - posters and catalogs to your package.
Have fun!
Your kunstform BMX Shop Team