Shipping Costs & Delivery Time
Delivery time is always depending on three factors:
product availability
chosen payment option
destination country
As a general rule:
➜
delivery time = ready for dispatch + package run time
On this a tiny sample calculation:
With
"on stock (ready for dispatch)"
and with an average package run time of 1-2 working days (DHL inside Germany), a total package run time of 1-3 working days is resulting. (For delivery inside EU the total package run time increases by 1-3 weekdays, for delivery outside EU and Continental Europe by 3-8 working days).
Ready for dispatch in...
It´s about the time needed to deliver the prepared package to our shipping provider.
Depending on the product the term can be different. This is always shown in the detailed view of the product: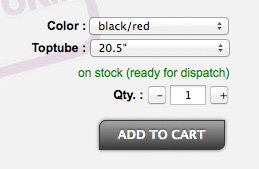 Following terms are possible:
on stock (ready for dispatch)
available (ready for dispatch ca. 2-5 work days)
availability notification after order received
curr. not available (delivery time upon request)
Please consider, that with an time designation of 2-5 working days the product has to be ordered at the distributer/producer. Delivery takes place after arrival in our stock.
You´ll find an overview of all payment options here:
payment methods