Kevin Nikulski - Bike Check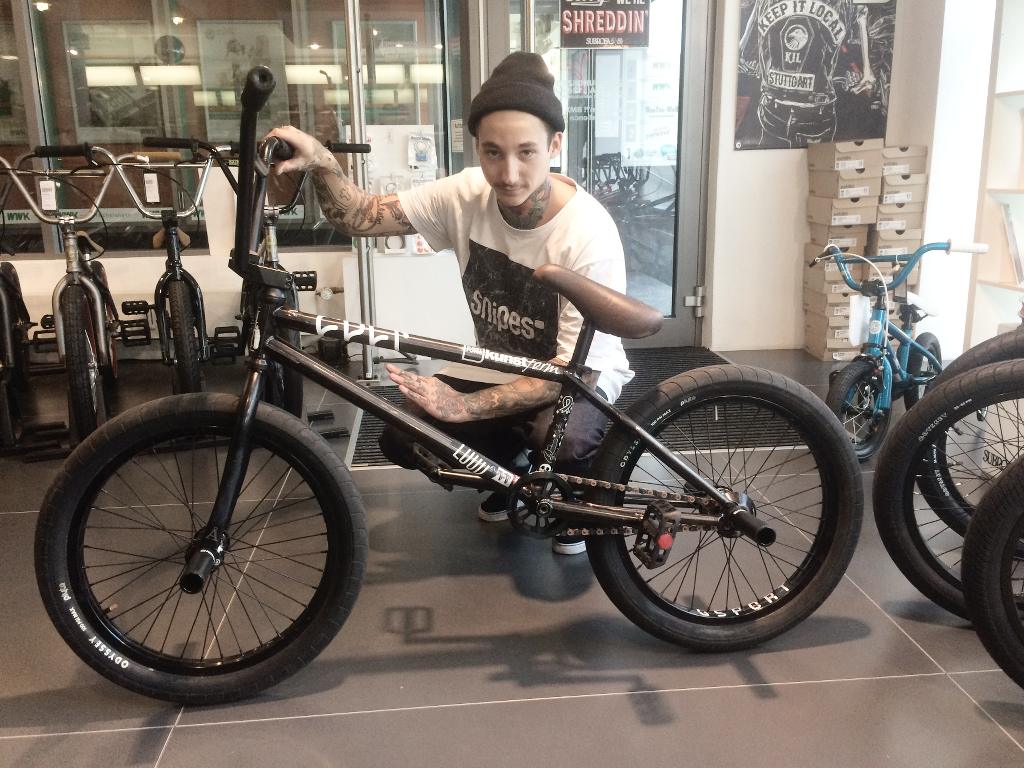 Kevin Nikulski - Bike Check
Kevin Nikulski
is one of the finest BMX rider for BMX flatland in germany! Beside some Shows in german famous TV shows like
Stefan Raab
(
Watch here
) he went this year to nearly every BMX Contest in germany like Highway to Hill (Berlin), Munich Mash (München), #BMXCGN (Köln) or der wtp Autumn Session (Trier)! Also he toke part in some international competitions like FISE (Montepellier), Bikedays (Zürich)! In few days he will travel to Japen to enter at the BMX Flatland World Championship in Kobe, which is one of the biggest BMX Flatland Contest! Well, he enter BMX flatland competition but he likes to ride actually all kind of BMX disciplines! What kind of bike he ride at the moment and how he feels few days before his travel to japan he will let us know with following answers!
Yo, Kevin! As we know you will travel in few days to Japan because of the BMX Flatland Worldchampionship! Are you ready for it?
Yeah, this year i will be enter one of the biggest flatland competition i ever have been! Of course i feel a mix between pressure and happiness! I used my time very well and rode a lot! So i'm looking forward and we will see how it will develop!
Your bike didn't look like a typical fragile and knotted BMX flatland bike! With all the Cult Parts it looks very stable! Please let us know why you have choosen these kind of parts?!
Yeah, i don't know, i feel more and more that i need just stable bikes and that's why i moved away from usual "flatland" bikes! My style keeps a lot of pressure of the bike and i'm tired of fixing it every second! As well i need for my fast flat style some bulk for control and i rode last time a lot of street with my dudes, so that's why my current setup is just a perfect mix for me, right now!
Frame
: cult hawk 20,5 tt
Fork
: autum bent fork
Bar
: autum berlin bar
Stem
: cult salvation v2 toploader
Headset
: cult integrated v2
Grips
: cult x vans grip
Barends
: odyssey paarends
Tires
: odyssey chase hawk p-lyte
Rims
: g-sport rollcage
Fronthub
: salt+ oilslick
Rearhub
: wtp helix freecoaster
Pegs
: cult butter peg
Seatpost
: autum
Seat
: cult ak tripod seat
Crank
: cult death row
BB
: kein plan ey :D
Pedals
: eclat slash nylon
Sprocket
: subrosa magnum bash
Chain
: shadow interlok v2
What will you do after Japan and where do you want to ride during the winter season?
Well, after Japan, i wanna go to London and then i need to chill! The most time in winter i will spend in Berlin and i will ride at Berlin finest indoor spot: ICC! In January i will go to california to take some sun and ride my bike!
Anything else you want to let us know?
Yes, i'm very happy to be part of the kunstform team and i'm looking forward for some more projects! Ride on! Peace!
Yo Kevin, we are also very happy to have you in our team! Thank you very much for your visit in our shop in Stuttgart! Please follow Kevin at instagram (Click here) #bestedude
Peace out! Daniel :-)
Related Products