Directions kunstform BMX Shop - Stuttgart
Opening hours
Mo - Sa : 12pm - 6pm

Address:
kunstform BMX Shop - Stuttgart, Rotebühlstr. 63, 70178 Stuttgart Germany
Arrival by S-Bahn (suburban railway) at station: Feuersee
The easiest way to get to our shop is to take the S-Bahn. All six suburban trains (S1, S2, S3, S4, S5, S6) stop at Feuersee. The main station, the Stuttgart Hauptbahnhof, is just 2 stations away (3 minutes). Bicyle entrainment is cost-free (exept in the morning from 6am - 8pm). After you arrive at Feuersee choose exit "Ausgang Silberburgstraße" and than take the stairs to exit "Rotebühlstraße". That is it. The Kunstform BMX Shop - Stuttgart is on the right side of the exit.
Arrival by car (adress: Rotebühlstr. 63, 70178 Stuttgart)
Approaching Stuttgart follow the road signs in direction "Stuttgart Zentrum". As you get near to the city center you have to look after "Theodor-Heuss-Straße/B27a" or "CityRing West". Then take the exit in direction "Stuttgart West". You should soon see the kunstform BMX Shop - Stuttgart on the left side. It is right at the corner Rothebühlstraße/Silberburgstraße.

There are a couple of parking possibilities around: Parkplatz Rotebühlhof (Finanzamt Rotebühlplatz 30, 70173 Stuttgart, cheap, 1 minute by foot) Parkplatz Paulinenstraße 49 (with costs, 1 minute by foot) Parkhaus Rotebühlplatz (Rotebühlplatz 28, 70182 Stuttgart, with costs, 5 minutes by foot) Our insiders' tip: Take the Furtbachstraße (70178 Stuttgart). There it is often easy to find a parking especially after 3pm and even better on saturdays. It is cost-free and just 6 minutes away from the kunstform BMX Shop - Stuttgart.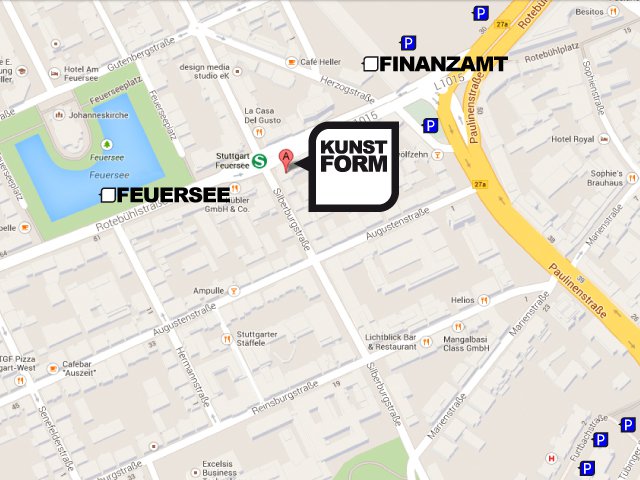 kunstform BMX Shop - Stuttgart
kunstform BMX Shop - Stuttgart
kunstform BMX Shop - stock
kunstform BMX Shop - office rooms
kunstform BMX Shop - photo studio
Review from dominik reitzell (11/11/2015)
dude if I could have one of those bikes I would love it bit I wont its ok I have a mongoose and it sucks :( every one else has a fit colony cult sabrosa and cult but ya u guys are cool
Review from kunstform?! BMX Shop & Mailorder (03/11/2014)
@rotes fert,
vielen Dank! Freut uns, dass es Dir wieder gefällt:)
Viele Grüße
Dein kunstform?! BMX Shop Team
Review from rotes fert (03/11/2014)
haha, total \"boitique style\" euer laden... und erst das fotostudio! da kann man dann richtig schön posen mit seinem schicken bmx und den hippen klamotten... fett. vestis virum reddit! euer video spricht ansonsten eigentlich für sich... falls ich auch irgenwann so fresch sein will wie Ihr komm ich vielleicht mal zum schoppen bei Euch vorbei, vermutlich fehlt mir dazu aber die nötige portion kunstform...also muss ich wohl weiter alleine und total unmodisch bekleidet mein weiteres fahrradleben fristen...dafür wird Euch aber bestimmt die bude von den ganzen enlischsprechenden oberschichtenkindern aus der stuttgarter umgebung eingerannt, also viel glück und erfolg mit Eurem geschäft an Eurem neuen standort! grüße!
Review from @red horse von kunstform?! (05/18/2013)
Lieber red horse,
natürlich könnten wir Dich oder Deine Kommentare einfach ignorieren oder löschen. Das tun wir jedoch nicht, da wir immer interessiert sind an kritischen Tönen (Teil der besagten Marketingstrategie?!) und die freie Äußerung der Meinung für uns eine der wichtigsten Erungenschaften darstellt.
Natürlich ist es uns allemal gestattet auf Kritik oder Ähnliches auch zu reagieren. Insofern kann man nie von den besagten getroffenen Hunden sprechen, wenn sich jemand oder in dem Falle wir, einer Kritik stellt oder darauf Bezug nimmt. Auch sollte sich ein Kritiker nicht darüber erstaunen, wenn er mit seiner Handlung eine Reaktion hervor ruft, denn das impliziert diese an sich. Uns erschließt sich in Deinem Fall der Zusammenhang nicht. Wenn Du eh nicht unser Kunde bist oder evtl. auch nichts mit dem BMX Sport zu tun hast, was genau bezweckst Du denn dann?
Einerseits amüsieren uns Deine Kommentare (unter anderem deshalb geben wir diese auch gerne frei) andererseits sind Deine Aussagen wenig durchdacht und von intellektueller Schwäche beseelt, was die Sache eigentlich recht langweilig macht.
Jeder Mensch lebt in seiner ganz eigenen Realität und es geht nie darum welche die richtige ist, da es in dem Zusammenhang niemals richtig oder falsch geben kann. Dass wir Teil eines Systems sind, ist doch vollkommen logisch, da jedes einzelne Lebeswesen, ja jeder Organismus Teil eines übergeordneten Systems ist, ob es/er möchte oder nicht.
Wir danken Dir an dieser Stelle für Deine Worte und wünschen Dir auf Deinem weiteren Weg der Selbstfindung viel Glück und Erkenntnisreichtum.
PS: Falls Du nach wie vor den Drang verspüren solltest, uns Deine Weltanschauung näher zu bringen, kannst Du das gerne über die "normalen" Kontaktmöglichkeiten tun (Mail etc.).
Von der Freischaltung weiterer Kommentare zu diesem "Thema" werden wir absehen, da diese in keinem erkennbaren Zusammenhang zum Seiteninhalt stehen ("Anfahrt BMX Shop").
Liebe Grüße
Dein kunstform?! BMX Shop Team
Review from red horse (05/18/2013)
liebe bmx-kultur-schaffenden... bzw. liebes kunstform?! BMX-shop-team! mag sein dass ich etwas wirr schreibe, dennoch denke ich, dass Ihr sehr wohl verstanden habt, was ich an Euch bzw. Eurem unternehmen kritisiere... dafür spricht auch, dass ihr nicht näher auf meine kritik eingehen wollt, was Eure plumpe, naja, nennen wir es mal marketing-strategie angeht... wie wichtig mir persönlich ein selbstbestimmtes leben ist ahnt Ihr nicht mal, dafür steckt ihr selbst viel zu sehr im system drin... verständnis erwarte ich natürlich dennoch (oder erst recht) nicht von Euch, wie gesagt, meine meinung kann Euch ja auch egal sein. dass sie das scheinbar nicht ist, dafür ist neben Eurem unvermögen, sachlich auf meine kritik eingehen zu können zusätzlich die tatsache ein beweis, dass ihr Euch nicht anders zu helfen wisst, als mich stattdessen persönlich anzugreifen, mir verstand, lebenserfahrung und geistige reife (die man ja nur in schule und/oder studium erreichen kann, aha) absprechen zu wollen... warum ignoriert Ihr so einen narr wie mich also nicht einfach?! \"getroffene hunde bellen\"...vielleicht?! oder es ist einfach selbstschutz, ihr könnt mich gar nicht verstehen... menschlich eben. im übrigen lassen mich informationen über die angebliche nachhaltigkeit eines unternehmens, die von dem unternehmen selbst in hochglanz im internet präsentiert werden (uh, klospülung mit regenwasser!) völlig kalt, das sagt gar nichts aus, ist (auch) nur marketing-strategie, aber damit kennt Ihr euch ja aus, bzw. fallt eben drauf rein, wie man`s nimmt, jedenfalls sagt das auch wieder einiges über Euch aus... ihr lebt vielleicht einfach in ner anderen realität als ich, aber welche die bessere ist, das vermag auch ich nicht zu sagen! also genug davon jetzt... der tag heute ist in der tat zu schön, um hier noch viele worte zu verlieren... also ebenfalls sonnige grüße, machts gut...
Review from @red horse von kunstform?! (05/18/2013)
Lieber Red horse,
deine vermeintliche Kritik stellt sich für uns nicht als solche dar. Derart inhaltlich Halt- und Zusammenhangloses haben wir wirklich selten gelesen! Deshalb weiß man auch nicht so recht wo man zu erst anfangen soll. Das Wesentliche scheint jedoch auf der Hand zu liegen- Du weißt nahezu Nichts über die von Dir genannten Thematiken.
Selbtbestimmung ist das charakteristische und schwer erkämpfte Merkmal der heutigen Zeit, daran ändern auch Kaufempfehlungen oder Hilfestellungen von uns oder Anderen nichts.
Sapere aude!- und wenn das nicht funktioniert hilft es eventuell nochmal die Schul/Studienbank zu drücken und/oder ein paar andere Lebenserfahrungen zu sammeln. Deine Darstellungen lassen auf einen noch unerfahrenen und unreifen Charakter schließen- was im Übrigen auch altersunabhängig sein kann.
PS: Noch als Hinweis & Beispiel zu der von Dir genannten Marke etnies: http://www.soletechnology.com/
Sonnige Grüße
Dein kunstform?! BMX Shop Team
Review from red horse (05/17/2013)
hallo. danke für die veröffentlichung meiner meinung. hätte ich ehrlich gesagt nicht erwartet... da ich kein kunde von Euch bin, ist meine meinung, die ich auf diesem weg geäußert habe, vielleicht einfach nur als eine art allgemeine kritik an Eurem laden und Euren verkaufsmethoden zu sehen... hier als beispiel ein ZITAT:\"Im kunstform?! BMX Fashion Shop Department findest Du schicke BMX Fashion aller angesagten BMX Brands. Damit Du mehr Spass beim BMX Fashion shoppen hast, zeigen wir Dir unsere BMX Klamotten mal auf eine andere Art. Unsere BMX Homies zeigen Dir die frischesten BMX Shirts, Hosen, Zipper, Accessoires oder BMX Schuhe mit einer Prise Humor. Auch die Ladies kommen im BMX Fashion Department auf Ihre Kosten. Mit bunten Shirts und leckeren Accessoires oder auch mal frecher Bettwäsche fährst Du immer mit der richtigen BMX Fashion. Und das beste ist: alle Mitarbeiter unseres BMX Fashion Department fahren selber BMX und ziehen sich auch so an. Wenn Du Dir also einmal nicht sicher bist, welche BMX Klamotten es sein sollen, dann nimm einfach Kontakt mit uns auf.\"ZITAT ENDE bmx-fahren geht also nicht ohne die entsprechende mode. oder, andersrum gesagt, wer dazu gehören will, der muss bei Euch einkaufen. klar zwingt ihr niemanden dazu. und ihr seid natürlich auch nicht DIE BMX-INDUSTRIE... trotzdem nutzt ihr es meiner meinung nach eben aus, dass jugendliche in Euren laden kommen, weil sie denken, sie müssen sich die entsprechenden klamotten kaufen, wenn sie dazugehören wollen. und, wie praktisch, Ihr fahrt ja auch alle selber professionel bmx und zieht euch so an, wie es sich dafür eben gehört... warum schreibt Ihr denn sowas? was wollt ihr denn damit erreichen? vielleicht stört es mich einfach, dass heute NICHTS mehr einfach nur aus spaß an der sache getan wird, sondern dass IMMER kohle dahintersteckt... klar dass Ihr meine (zugegebenermaßen auch teilweise etwas beleidigende, also sorry dafür! ) kritik vielleicht nicht ohne weiteres annehmen könnt, bzw. auch ein stückweit gar nicht versteht, weil Ihr ja selber von diesem system profitiert... was mich nervt ist dieses bild, dass auch Ihr selber malt bzw. präsentiert... es ist \"BMX-kultur\", und was das ist, das zeigen mir leute wie Ihr, und wenn ich so sein will wie Ihr, dann muss ich mir die klamotten kaufen, die ihr auch tragt... und die Ihr mir dann auch verkauft. aber wie gesagt, Ihr seid ja nur ein kleines rädchen im system... also nehmts mir nicht übel, kann Euch ja auch egal sein, was ich denke... nur eines noch: habt Ihr Euch schon mal gedanken darüber gemacht, wie nachhaltig die produkte sind, die ihr verkauft? wie und wo sie produziert werden und von wem? über zb. etnies, dcshoes oder vans findet man darüber nichts... also wisst Ihr eigentlich, was Ihr da verkauft und wem ihr evtl. damit nutzt bzw. vielleicht auch schadet? oder ist \"BMX-kultur\" vielleicht doch einfach nur \"BMX-konsum\"?!? viele grüße...
Review from @red horse von kunstform (05/16/2013)
Hallo red horse, das Gebäude wird voraussichtlich 2016 wegen Stuttgart 21 abgerissen. Wir zwingen niemanden etwas bei uns zu kaufen, auch halten wir uns an die UVP der Hersteller, daher können wir Dein Kommentar nicht zuordnen. Falls Du beispielsweise mit einer Bestellung, einem Verkauf oder einem Mitarbeiter von uns nicht zufrieden bist, dann bitten wir Dich die entsprechende Kontaktmöglichkeiten zu nutzen und uns zu kontaktieren.Da es hier um die Meinung zu diesem Artikel geht, bitten wir Dich, sofern Du Deine Kritik öffentlich machen bzw. weiter diskutieren möchtest, unsere Facebook, Twitter, Google+ oder Youtube Seite zu nutzen. Viele Grüße Dein kunstform?! BMX Shop Team
Review from red horse (05/15/2013)
uh, voll stylisch... total unnötiger schnickschnackfirlefanz für möchtegern- und moderadler...unter dem deckmantel individualismus, lifestyle und \"bmx-kultur\" (!!!) wird selbstverliebten menschen das geld aus der tasche gezogen... natürlich gehts wie immer nur um kohle! wird der laden wegen stuttgart 21 nicht auch abgerissen? wär nicht schade drum...
Review from Maxe Heinzl (12/06/2012)
Sau geiler Shop !!!
Review from Louis hauser (11/17/2012)
Hab ein Stero Bike bestellt und bin voll zufrieden
Review from karl hein (08/19/2012)
das ist sowas von abgefahrn
Review from Paul (11/09/2010)
Cool, gleich gegenüber ist ja der Haupbahnhof.
Review from Sandra (11/09/2010)
He cool, da studiert meine Freundin.